Tomorrow The Husband and I are off for our annual visit to
The Royal Academy's Summer Exhibition
and because I bought a print from it a few years ago, I now get a free invitation to the Buyer's Day which is held a few days before the Exhibition opens to the general public. The invitation that comes through the post is what used to be known, in the Wodehouse/Mitford age as a 'stiffy' (fnarr-fnarr) as the embossed card is satisfyingly thick with shiny gold printing. Lovely. Unfortunately you have to hand this in when you get there otherwise I'd keep them as I don't get many invitations as tactile as this, not even to weddings as no-one I know gets married anymore.
However, having been made to feel more privileged than the hoi-polloi, it's actually a bit of an unseemly ruck when you get in there. Because, generally, you'll find you're not the only person that has bought something before from the Summer Exhibition - all you need to do is buy once and, forever after, you get a free Buyer's Day invite, even if you never buy anything again! And because the most affordable items are all shoved together into the Weston Room and the nearby Pet's Corner (my favourite place), it generally resembles the opening day of a new Ikea where every leather sofa is £25. And there's no air conditioning.
On the upside, there's a bar down the centre of Room III for all your Pimm's and champagne needs (although 10 in the morning is a bit early, even for the likes of leathery-livered old me) and there's the possibility of being able to follow a genuine famous about. Last year we stalked doddery mad aristo
Lord Bath
(who daubs enthusiastically and has, allegedly, a very large collection of Third Reich memorabilia tucked away at Longleat House) and one of his Nordic stick insect-like 'wifelets' through the rooms. Even more fabulously, the year before, the Husband decided to wear his lovely stripy Paul Smith shirt which caught the eye of
Alvin Hall
, TV's gloriously camp financial advisor, who used it as an excuse to start chatting him up! I suggested to The Husband afterwards that he had been onto a winner there and, if he'd played his cards right, he could have ended up living the life of luxury with probably only mild physical discomfort to be endured. A small price to pay, I'd have thought, and one many women are familiar with - but he wasn't having it and came home with me instead.
So far, over the years, I've bought 3 prints in total (and am hoping to buy again this year - I save up my birthday money):
Orange Tom by Daniel C Wallis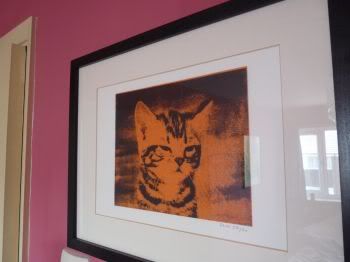 White Horse Hill by Jeremy Blighton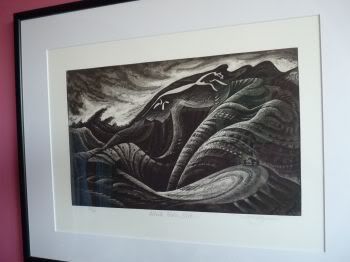 and Tiny Pig by Chris Brown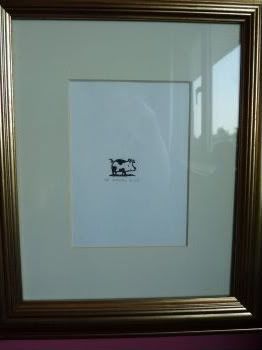 (It's very hard to take photos of pictures because you're reflected in the glass if you stand right in front of them, so that's why they're at a funny angle. )
I'd really like to be able to afford an original Norman Ackroyd, perhaps something from his
Scottish series
or his
Lake District
series because they're stunning, but just out of my price range!
I'll let you know how it goes...